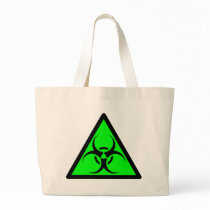 America's next silent killer: the reusable grocery bag!
Reusable grocery bags can be a breeding ground for dangerous food-borne bacteria and pose a serious risk to public health, according to a joint food-safety research report issued today by the University of Arizona and Loma Linda University in California.
The research study – which randomly tested reusable grocery bags carried by shoppers in Tucson, Los Angeles and San Francisco – also found consumers were almost completely unaware of the need to regularly wash their bags.
"Our findings suggest a serious threat to public health, especially from coliform bacteria including E. coli, which were detected in half of the bags sampled," said Charles Gerba, a UA professor of soil, water and environmental science and co-author of the study. "Furthermore, consumers are alarmingly unaware of these risks and the critical need to sanitize their bags on a weekly basis."
Bacteria levels found in reusable bags were significant enough to cause a wide range of serious health problems and even death. They are a particular danger for young children, who are especially vulnerable to food-borne illnesses, Gerba said. [emphasis mine]
HIDE THE CHILDRENZ! SOUND THE ALARM! SWITCH TO PLASTIC!
The sheer sensationalism and scientific shoddiness of this study are truly shocking. First things first, the study was funded by the American Chemistry Council, a trade association that represents various manufacturing industries, including those that produce plastic. Apparently, with the plastic bag ban in California gaining momentum, the embattled plastics industry decided to recruit a couple of researchers from the University of Arizona to muster up some data and claim that the proliferation of reusable grocery bags should be classified as a form of biological warfare.
The study was simple enough: reusable bags were collected from customers at the entrances of various grocery stores and  subsequently swabbed for bacteria, which was later isolated and classified. The results? 51% of the bags contained some form of Coliform bacteria, and evidence of E.Coli were found in 12% of the bags. Judging by the widespread syndication of the study results, the latter discovery clearly set off some alarms. However, as usual, things are not as they seem. Via the CDC website:
Escherichia coli (abbreviated as E. coli) are a large and diverse group of bacteria. Although most strains of E. coli are harmless, others can make you sick. Some kinds of E. coli can cause diarrhea, while others cause urinary tract infections, respiratory illness and pneumonia, and other illnesses. Still other kinds of E. coli are used as markers for water contamination—so you might hear about E. coli being found in drinking water, which are not themselves harmful, but indicate the water is contaminated. [emphasis mine]
Nowhere in the text of the study results do the researchers mention the specific strain of E. Coli found in the bags. For all we know, the strains could have been exlusively of the benign variety. And to make things worse, the UA news blurb includes a gem of a caption underneath a photo of  Salmonella that frankly resembles the Tikka Masala at Kababeque. There's just one problem– the researchers never actually found any Salmonella during their investigation. Apparently, "attempts to isolate Salmonella and Listeria bacteria from the bags were not successful in this study, but this may only represent the limited number of samples that were collected."
The UA has made no secret of its intention to become a top research institution. There's more to achieving this goal then just increasing funding, however. If they are going to claim that our lives are at stake, pertinent departments should raise standards accordingly and ensure that solid methodology and honest investigation take precedence, regardless of where the money is coming from.